Khartoum Lake, in Powell River has a long history, named after the famous Khartoum, sits beside another lake that is now called Lois Lake, prior was called Gordon Pasha. Originally there were 3 large lakes, Lois Lake, Gordon Pasha and Bloedel Lake, years changed the names to 1st, 2nd and 3rd lake, then to the Gordon Pasha's. Then came the dam, which at the time flooded so much timber it was considered one of Canada's worst timber waste disasters, and the 3 lakes became 2, Lois Lake and renamed 3rd, Bloedel to Khartoum Lake.  Along the shores of Khartoum there are many old camps, it was a tough area to log, high steep mountains with long steep waterfalls.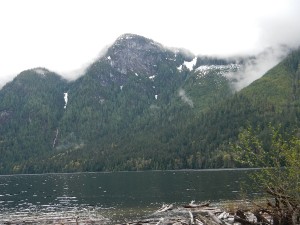 The area was hand logged mostly, most of the old logging sites on the lake are still used today for one reason or another, one is now a Provincial Campsite and others are either sites growing over or long forgotten.
Every now and again you find a site almost totally forgotten or hear a story about them, the one I heard about was a truck, abandon at an old site, last year I went looking, did not find, and this year I hear where about it is, thinking, dang, the one trail I think I didn't go down, so off  I went on a Saturday afternoon, drove right to the trail head and began a walk down.
Along the trail we came across a huge tree, long since fallen probably during a storm, easily 6 ft to 7 feet round at the base
A little further down, a rock split in half, a small tree surviving and growing between the rock.
Not all that much further we came to the beach, and there she was, a thing of beauty, although Im sure she was a ugly thing in her day, we are thinking its about a 1938 but really not sure.
Looking around inside the truck, amazing its condition sitting so long in the backcountry and its a wonder so many parts were not taken from it.
The outside of the truck was also amazingly intact, so many things easily taken, yet remain, hopefully for many years to come.
Looking around there were some engine parts, old pieces of buildings, some truck parts and a few other things.
Nearing the end of this adventure we noticed something in the bush right near the water, going deeper and right on the waters edge was a boat, not just any boat, but a solid metal boat, riveted, and the weirdest thing was, it was only 1/2 there.
Well another story about a lost relic, located not by me, but by those out there, telling me the stories, I thank them, even though they have no idea the history of places like these, in the past, once it was the livelihood of many a family man.
Youtube Video of Truck