Freda Lake British Columbia, what can I say, a beautiful magnificent place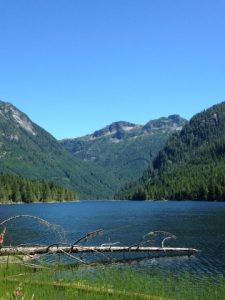 I remember going up to this lake when I was a kid, it was a rough tumbled, bone cracking, head bumping ride.  These days you can almost drive a car smoothly right to it, when I went as a kid it was usually in the backseat of some old 1950's Pontiac or dodge, this trip it was with my wife Samantha and Jack in a 2001 Dodge.
I told my wife this story about when I went as a kid, we never had a boat there, but as a kid I thought I could see a truck on the other side of the lake, but was never sure and I always wanted to see if I was right, so again with my wife's urging off we went, took our truck and our canoe and Jack our dog and to Freda Lake were left.
It was a freaky windy day, this lake is usually frozen by late November well into early February, this was August so we knew we were good  From a distance as we closed in I knew I was right, it was a truck.
It has been there for years, it has all the appearances that it was left total intact. Bullet holes and all, it still has its carb, which is usually odd for an old truck sitting in plain site for more than 50 years.